The best part of my job as Senior Product Manager at Currencycloud is talking with clients.
I always get so much out of these conversations: from understanding their knotty problems and proposing new features as solutions, to getting ahead of emerging trends in Financial Services.
One great new feature that grew out of such a client interview is our latest product enhancement – Transfers.
Transfers was built for clients who need to move money between their Currencycloud accounts (e.g. from their House Account to a Sub-Account set up for one of their end users).
Let's take a look under the hood at how it works
In this example, Currencycloud's client has a House Account and their end users have Sub-Accounts.
Transfers of funds can happen in three ways:
From House Account to Sub-Account
From Sub-Account to House Account
Between two Sub-Accounts
For those who are more visually inclined: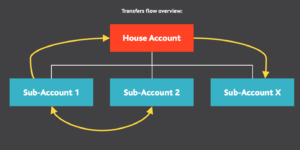 Transfers enhances client capabilities
Intra-account transfers allow our clients to manage their currency conversions and cross-border payments in new ways.
24/7 reconciliation
Transfers gives our clients the ability to reconcile their cross-border payments accounts on a 24/7 basis. In today's global economy more and more businesses operate across multiple time-zones. Using intra-account transfers means their House Account and Sub-Account balances are always balanced and true.
Easy collection of fees
Prepaid card companies can use Transfers functionality to collect fees from their users, each of whom has a Sub-Account.
How a Marketplace could use Transfers
We engineered Transfers with many different use cases in mind. However, a good example to work through is a marketplace of buyers and sellers (think Etsy, Notonthehighstreet.com or even Amazon).
In this workflow, the Marketplace has a House Account. The hundreds and thousands of buyers and sellers are set up as Sub-Accounts. This enables funds to be exchanged for the purchase or return of goods.
At any time, the Marketplace House Account will need to collect fees from sellers, pay sellers for goods purchased on the platform and reimburse buyers for refunds. In addition to all of these transfers, they have to reconcile balances held in different currencies.
Transfers allows the Marketplace to avoid fees for transferring balances and they also work outside of traditional banking hours. What's more, the transfers are done in real time and immediately reflected within reports. This provides complete transparency for buyers and sellers. It's a win-win.
Interested in seeing how this works?
Check out our Transfers demo.
To find out more about our capabilities, be sure to get in touch: