One for all, and all for one: sync. chooses three partners to achieve their vision
There are partnerships, and then there are those true relationships amongst partners that are magical; delivering exactly what's needed, fast. Currencycloud partnered with Transact Payments Limited (TPL) and Integrated Finance (IF) to deliver a unique solution for sync., the all-in-one money aggregation app, and get them to market in record time.
Founders Ricky Lee and Azahara Egea had a vision of creating a superapp that would allow users to instantly access, manage, and view all their accounts across different banks, within a single app.
Their choices of partner meant that they could develop the solution they needed for their customers today, get to market in under three months, and maintain the flexibility to adapt and grow. As a new entrant to the UK and European finance markets, sync. needed partners with experience, ones that would help them consolidate their payments functionality across all the banks their customers interacted with.
Currencycloud worked closely with sync., Transact Payments Limited, and Integrated Finance to create a truly innovative, fully compliant product that has reimagined decades-old ways of consumer financial transactions, in just two months.
Here we review with Ricky Lee, Founder and CEO of sync. how two of the partnership team, Transact Payments Limited and Integrated Finance helped sync. achieve their vision and launch a groundbreaking product.
Ricky Lee explains, "our idea hadn't been done before. We needed expert partners to help implement our core banking proposition. We had to account for elements like safeguarding requirements and the ability to offer all currencies our customers demanded. We needed a technical layer that would allow us to integrate partners who could handle complex requirements to make our idea a reality."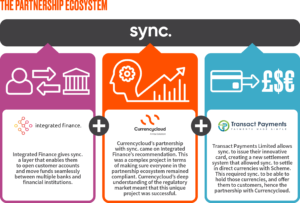 Ricky Lee adds that, "without this partnership, we wouldn't have the product as it is today. Simply put, it wouldn't exist. Our three partners could see that if we could jigsaw this together, as a group, we could create one of the most innovative products within the industry. Together we saw that we can make something unique and powerful, that would change the fabric of settlements and payments, and how we interact with customers."
"Because our partners had open minds, it meant that they were the right partners for us." – Ricky Lee, sync.
sync. and Integrated Finance
Integrated Finance automates workflows for Fintechs, easily connecting banks to Fintechs, and managing financial infrastructure. Their integrations give Fintechs the flexibility and freedom to scale and switch out banking partners when they want.
Integrated Finance Co-founder Daniel Cronin says of the partnership, "when sync. came to us, they had an absolutely fantastic user experience and front-end engineering team. Their product looked as good as the best in the market. But where they lacked expertise was in the technical and regulatory side of engineering, the back-end that facilitates their beautiful product."
Integrated Finance has the experience in building integrations to the vendors sync. wanted, meaning sync. was able to access all the integrations they needed in just two months. Daniel Cronin comments, "there's a real speed-to-market aspect in partnering. More experienced Fintechs understand the benefit of working with an established partner. Brand new Fintechs often think they can do it all on their own, not realising that it can take years to get their product to market. Experience is so important. Currencycloud's implementation guys are some of the most knowledgeable in the industry. This is really valuable to a start-up like sync. because Currencycloud ensures everything is compliant."
sync.'s Ricky Lee notes that "Integrated Finance were able to integrate all the different banks in the UK and Europe we needed in an incredibly short space of time. We also needed Currencycloud. They were able to integrate all these different partners for us, while we focused on building our unique card settlement piece internally."
Daniel Cronin adds that "we extracted the complexity for sync. So, if sync. decides to add more features, or move providers, there's no extra work for them to do. We are like a universal adaptor for APIs."
sync. and Transact Payments Limited
TPL are Principal Members of Visa and Mastercard, with over 20 years' experience in card issuing. They are experts in payment and card solutions and provide BIN sponsorship.
When sync. first approached TPL they were unregulated and were looking for a partner who had extensive experience of Mastercard's scheme rules – who could also work in an Open Banking environment. As a Mastercard Principal Member, TPL had the expertise to help sync. achieve their vision, and were responsible for sync.'s approval process.
Noel Smith, Business Development Director Transact Payments Limited, adds his take. "I was blown away by what sync. wanted to do. sync. was one of the first clients where the IBANs were linking up to another party to get an overall solution. This was unique. We wanted to help them build their product in a way that was right for them."
As Mastercard Principal Members, TPL is responsible for sync's approval process and conducts all the settlement and reconciliation while making sure they remain compliant. sync.'s trust in TPL's expertise meant they could focus on getting all other elements of their product ready to launch. Noel Smith explains that "sync. didn't want to put all their eggs in one basket and go with a one-stop-shop where you can't move or adapt as your business changes. They used us for our expertise, our speed, for setting up EMIs and for settling funds, and creating the physical cards with their multi-currency functionality. We liaised with Mastercard for their card scheme regulatory approvals, and issued their cards."
sync.'s Ricky Lee adds that "because we were trying to change the way the financial industry has operated for the past however many decades, it was satisfying to get the buy-in from all the different stakeholders who helped us get our great idea out to market quickly."
"Without the partnership, we wouldn't have the product as it is today. Our three partners, Integrated Finance, Transact Payment Limited and Currencycloud saw that if we jigsawed this together, as a group, we could create one of the most innovative products within the industry."
Better, together
Partnerships are about seeing the bigger picture, and each other's strengths. Partnering with Currencycloud allows sync. to offer their customers different currencies within the app, and the freedom to access a global market. TPL's modular approach and independence from other partners gives sync. the freedom to choose other partners and build the product they want. With Integrated Finance, sync. benefits from accelerated speed-to-market, ongoing ease of financial management, and the reassurance they can safeguard customer funds.
If sync. had chosen to go alone, it would have taken years to develop, licence and cost more than they could afford.
BACKING YOUR BOLD
Start your borderless payments journey today