It's been a big month here at Currencycloud. Not only are we celebrating the opening of a new office in Cardiff, but we have also just added our 200th team member.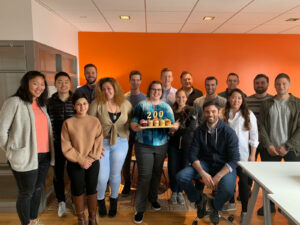 Rose Blackford is our latest recruit, joining the Desktop Support Team in our New York office. On hearing she was our 200th employee, Rose commented: "What a first day – when I arrived in the office this morning I was greeted with a massive cake – what a way to start a new job! I can't wait to get stuck in and meet all my new colleagues in New York and around the world."
Our new office in Cardiff currently has a small team of five people and we plan to expand our presence in the city significantly over the next two years. We will be adding new roles in technology and customer success initially to complement our teams today in London, New York, Amsterdam and Lviv.
At Currencycloud we have invested heavily in creating a great workspace where talented people can do their best work. We were listed as one of the 'Best Small Companies to Work for in London 2019' in Best Companies' latest survey. We are also proud to have been awarded the Sunday Times 'Best Places to Work' award in 2017, and a Best Companies 'Best Place to Work' award in 2018.
Todd Latham, Currencycloud CMO stated: "Making Currencycloud a great place to work is massively important if we want to hire and hold on to the best minds in the industry. At Currencycloud we work hard to create a radically open culture where smart people are empowered to do their best work and build their careers. Maintaining this culture becomes ever more important as we scale the business around the world."
Here's to the next 200.