Money matters to small businesses.
Working capital can be hard to secure when operating a small business and one particular FinTech company is helping to change that.
In our interview with Eyal Lifshitz from BlueVine a FinTech company specializing in providing fast funding to small businesses, we talk about how they are passionate about helping customers and how their industry is evolving.
The beginning
The lifeline of small businesses is their cash flow and without a robust one, chances of success soon diminish. Eyal Lifshitz knows this first hand, expressing that he comes from a family of small business owners. The birth of BlueVine was simple. "We were looking for an area to effect change," said Eyal.
Traditionally, small business owners would have to jump through hoops with a variety of banks to try and obtain funding. And even then, it was never a guarantee. When it did go through, it was a slow process.
Eyal knew there was a better way. In comes BlueVine, which allows owners to obtain five million dollars and receive cash in as little as one day.
Money isn't a "nice to have", but a crucial key to a businesses success, explained Eyal.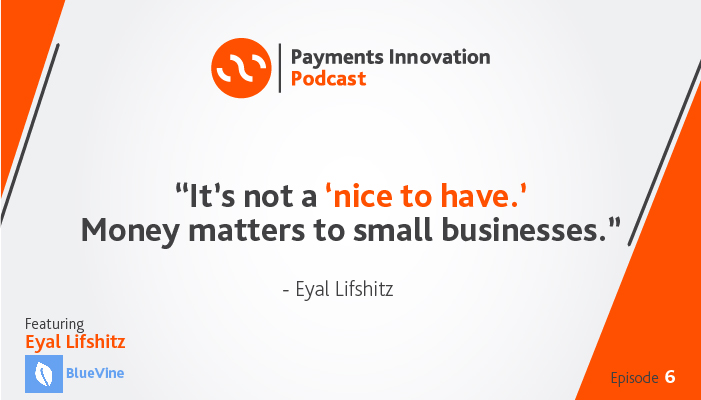 Challenges along the way
Starting a company is hard regardless of what industry you're in and BlueVine was no exception. A FinTech company has additional hurdles to jump through such as regulations, handling sensitive information and a host of security issues.
As Eyal explained, "The hardest area for us was getting the first customer and making credit decisions. It was challenging."
He went on to explain that trust is the foundation of everything. "You're not just providing a product where there is zero friction to adopt it. Your customer needs to trust you and that takes time to ramp up", Eyal revealed.
Once market fit and the first customer was under their belts, the BlueVine team faced another challenge: Scaling.
Interestingly enough, this came with time. As credibility of the company started to build, so did the partner trust with vendors. "Our relationships deepened and that opened up a variety of different paths for us," said Eyal.
He went on to say that in the FinTech industry, there are many vendors that will not even work with a company until they reach a certain scale. So getting to that level took a lot of hard work, however, it also has made BlueVine stand out.
Proving that their business model is solid and the necessary pieces are in place, has allowed them to work with national institutions on a grander scale.  
What's next?
Growth of course.
But as Eyal explained, there are different types and their focus for the future is on product growth. This means having the right products for their customers. Their approach is hybrid and is achieved through listening to partners and customers, while strategizing on what products would fit well operationally.
"It's a combination of a business case and an operations standpoint on where to expand. You make a decision based on what you have and where the opportunity is the most attractive," Eyal said confidently.  
What are banks future role?
Banks have always played a strong role in lending for small businesses, but as they lose traction to a variety of FinTech companies such as BlueVine, their future remains uncertain.
Eyal's insight into this was encouraging. There are a few different avenues that banks are taking to stay afloat. Some are acquiring FinTech companies, and some are partnering with them. While still others are providing much needed capital to these new startups.
All in all, banks are trying to stay agile while pursuing diverse strategies in this new industry.
This post is based on a podcast interview with Eyal Lifshitz from BlueVine. To hear this episode, and many more like it, you can subscribe to Payments Innovation.
If you don't use iTunes, you can listen to every episode here.