The pandemic is like an advertisement for the Boy Scout motto: Always be prepared.
Yet, financially, few Americans are. Most have less than $500 in savings!
They need to follow the Boy Scout credo. And they need Fintech to do it. 
And my guest today, Ahmed Siddiqui, author of "The Anatomy of the Swipe" and Head of Product at Branch, is trying to help get American workers merit badges in financial wellness. 
Branch is a challenger bank making financial tools for the American worker to unshackle them from the two-week payment cycle limiting their financial success. 
What we talked about:
Why Branch pivoted to payments

How they are keeping the service free for employers and employees

What the future holds for Fintech
Branch's pivot to payments
Believe it or not, Branch actually began as a schedule management company, offering employees a platform with which they could take advantage of opportunities for more shifts or to trade shifts with coworkers. 
The goal was to help employees make more money.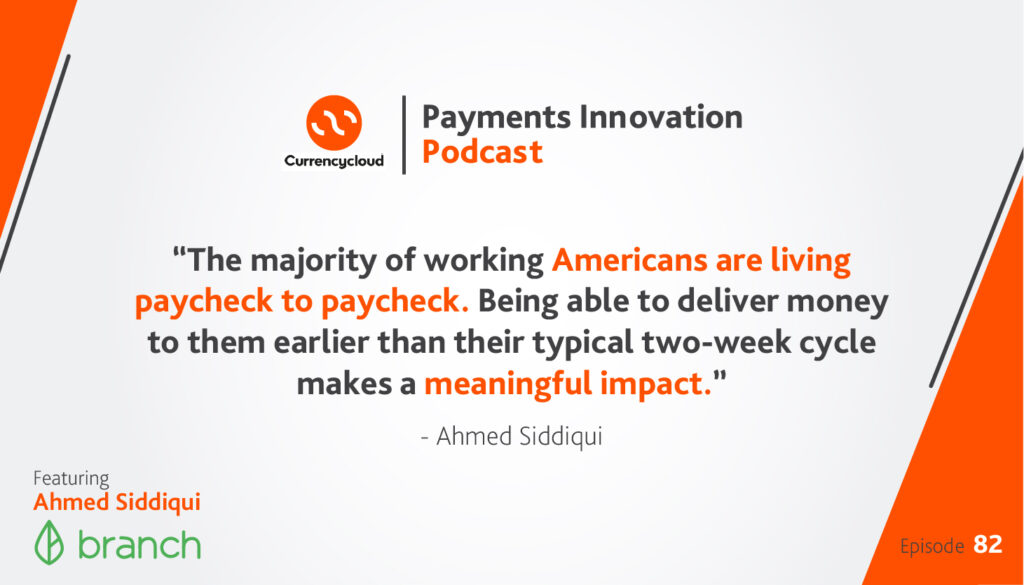 In the process, the company started making some Fintech and financial wellness products and they took off. The company learned how much every extra dollar earned or saved helped workers. 
So, they pivoted. Now, they're a challenger bank offering a checking account with a debit card and early access to earned wages. 
Their tech is helping workers with a ton of pain points. 
For instance, pizza delivery drivers — who, let's face it, are responsible for making the lockdowns tolerable for many of us — aren't getting tipped in cash anymore. And certainly not since the pandemic started. So, it's become really difficult to get paid tips at the end of the day with no cash in the register.
But, through partnerships with employers and the power of Fintech, employees can now get paid instantly. And, as a bonus, they get to ditch the fat stack of receipts they've been lugging around that much faster.
And they're offering all of this for free for both employees and employers.
Free for employers and employees
It's important to Ahmed and Branch that employers and employees not be charged for their services — after all, the goal is to improve financial wellness, right? 
So, any money they can save workers is important. 

Of course, they still need to generate revenue, and, like many other Fintechs, they turn to interchange revenue — fees from the merchant when an employee swipes their card — to turn a profit.  
For workers, there are no overdraft fees, no maintenance fees and no fees for early access to earned wages. 
And this is huge. 
If there is an emergency — you know, like the one keeping us all inside — and you need to get prepared immediately, it's going to be a pain if you can't access your money without paying exorbitant fees or interest.
When you get your wages early, though, do us all a favor. Remember that preparation does not mean snagging every last square of toilet paper in your city. Even the Boy Scouts would disapprove of that move.  
Forecasting the future of Fintech
We're all trying to find ways to navigate this new normal. And this means Fintech is being proven more and more the crisis goes on, with new use cases being tested every day that we are forced to do things differently. 
And some of the changes we're making are going to live on well past the virus. 
But how?
First of all, Ahmed thinks all tech will eventually be Fintech.

The cutting edge technology getting us through social-distancing, lockdowns and remote work is more often than not already powered by Fintech. 
When you want a meal while you're too busy binge-watching Tiger King to cook, you're going to call Door Dash. But where would they be without reliable payments? 
That's why Ahmed says Fintech will eventually be indistinguishable from tech as every company adopts its own technology. 
To ensure that you never miss an episode of Payments Innovation, subscribe on Apple Podcasts, or Spotify, or here. 
Until next time!