Marqeta isn't your usual sort of fintech. They don't wrap their API into a legacy system. They own everything, from the hardware, to the API.
Dave Matter, Head of Global Product Strategy at Marqeta, recently joined us on the Payments Innovation podcast to discuss what he sees as the future of banking, and how their unique product is taking advantage of financial service opportunities around the globe.
No middle layers: a full stack, fully certified
program manager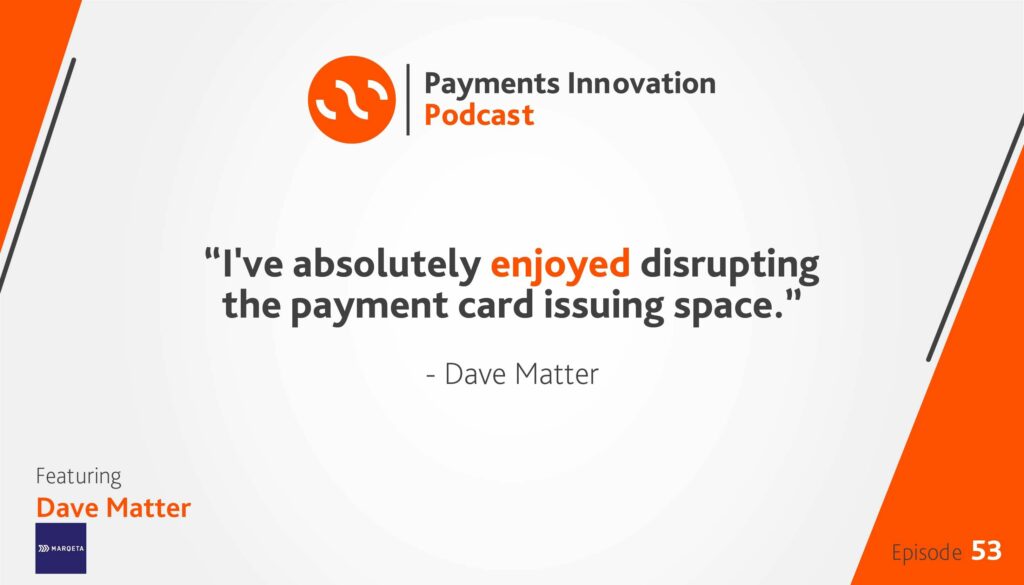 Many other fintechs are purely API layers built on legacy issuers or processors, and they're ultimately beholden to the service provider that they are wrapping for their API. 
But, Marqeta is a full stack core issuer-processor and program manager. They've actually performed native certifications with each of the payment card networks in the US, including Mastercard, Visa, Discover, and the various pin debit networks, like PULSE, Maestro, and Interlink.
So, they support credit cards, debit cards, prepaid cards, and also both commercial and consumer transactions on digital wallets.
"There are no middle layers or middle players involved between us and the payment card networks. So, we are in full control of the entire stack, all the down to the hardware that's connected to the payment card networks, all the way up to our own API layer that's built on top of our own infrastructure." — Dave Matter
What financial institutions see as the
advantages
of working with Marqeta
I pointedly asked Dave about the capabilities that Marqeta brings to the table, and why it's advantageous to work with them rather than for an entity to go to a traditional bank and piece together each piece of the card issuance together themselves.
Here's what he said: 
1) Time to market
Basically … why reinvent the wheel? Marqeta's got this figured out. 
2) Marqeta supports various
form factors
Financial service providers want virtual cards, physical cards, and tokenized digital cards to extend that functionality to the digital wallets of the world. Each of these requires different functionality, relationships, and compliance management. Marqeta has all the expertise needed.
3) Reduction in
onboarding time
for customers
Here's where Marqeta really shines.
With traditional banks and traditional cards, customers are filling out the signup form, and waiting up to 10 business days or more to obtain access to that payment option.
But if a bank uses Marqeta, those customers are able to sign up for an account or a payment cards, and immediately have that payment credential provisioned and programmatically injected into a digital wallet.
So, within minutes of signing up for an account, a customer will have access to a funded account and a payment credential with which they can make payments to a brick-and-mortar or ecommerce store.
4) Different country,
same interface
A main benefit of Marqeta is that a customer receives all the banking relationships within the package.
So, if a Marqeta partner goes multinational, they can continue to use Marqeta's interface, which "hides" all the underlying banking and regulatory challenges.
Marqeta already has the necessary banking relationships and compliance issues solved and integrated into the UI — so regardless of multinational presence, the interface remains the same, and the banking relationship that an entity would usually need to build are built-in with Marqeta.
The
future
of Marqeta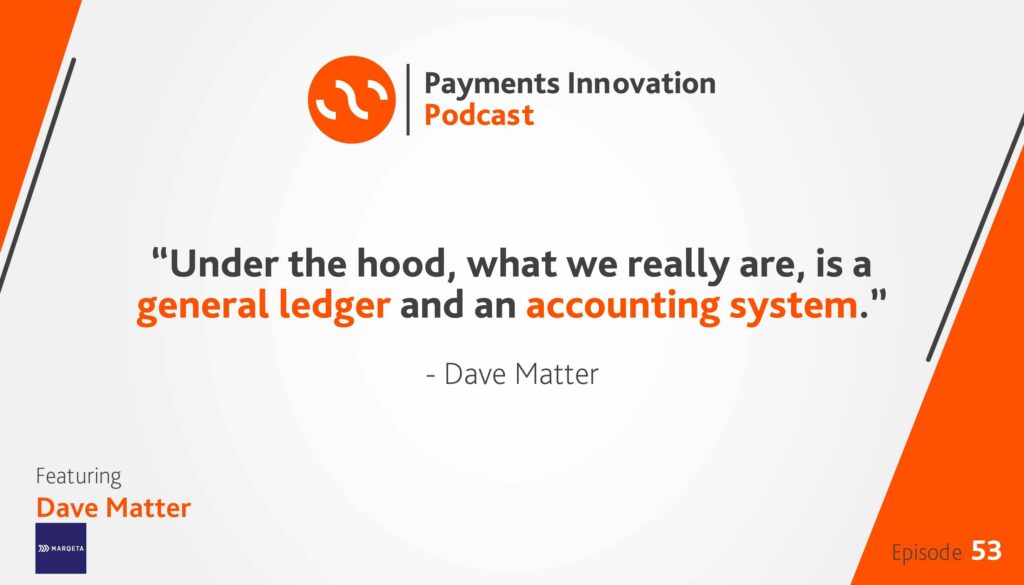 (That was Dave's response when discussing what Marqeta is at the core.)
And this rooted philosophy has allowed them to explore options in other geographies, in other verticals.
Here are some of the opportunities Dave is exploring and tapping into with Marqeta:
Latin America 
Lending in Latin America provides ample opportunities for bankers, investors, and fintech. In Brazil, for instance, interest rates aren't regulated, and there isn't a FICO equivalent. That leaves some holes, but also opportunities.
Asia Pacific
Dave sees a hole in expense management in the SME to SMB cohort.
To ensure that you never miss an episode of Payments Innovation, subscribe on Apple Podcasts, or Spotify, or here. 
Until next time!