Money 20/20 is the who's who of FinTech.
On the most recent episode of Payments Innovation, we heard from Andrew Morris, who is Chief Content Officer of Money 20/20, the largest global FinTech conference.
After doubling in size the first three years it existed, Money 20/20 now has four events in the US, Europe, Asia, and—brand new this year—China.
"One of the things that is really unique about it is the different ecosystems that Money 20/20 brings together," Morris said.
It isn't just banks and finance companies, but tech companies and even startups that show up for networking and partnership opportunities.
The founders of Money 20/20 recognized in 2012 that there was a fundamental transformation happening: from analog payments to digital payments.
And introducing…the whole concept of FinTech!
About the new conference on mainland China, Morris said, "There will be a great interest in having Western companies speak in China, and we're seeing more and more interest at our U.S. event about hearing from those Chinese companies as well."
Through Money 20/20, Morris gets to stay on the cutting-edge of issues that drive the direction of FinTech, and he's here to share five of them.
1) Globalization
FinTech is unquestionably a global market.
To go from a conference of 2,000 in Las Vegas in 2012 to four global conferences—some as large as 12,000 attendees—in just six years is amazing.
"In the early years of Money 20/20 when I first took this role putting the agenda together, we did sessions that were specifically about another part of the world," Morris said.
Let's talk about FinTech in China, for example.
"Surprisingly, they were not well attended," he said.
From a U.S. perspective, FinTech still felt very niche (which is funny nowadays).
"In the last two years in particular, there has been a definite change in that," Morris said.
With the launch of the conference in Europe (first Copenhagen, now Amsterdam) and in Asia (first Singapore, now also Hangzhou), the number of people who are very passionate about FinTech has grown proportionally.
The agenda tracks about globalization now generate tons of interest (no surprise).
2) Advanced Data Science
Two technologies that are driving a lot of interest this year are artificial intelligence and machine learning.
"We did a special track on that that was extremely well attended," Morris said.
It featured speakers like Steve Wozniak and Dr. Michio Kaku and Ray Kurzweil—and data scientists from various companies in the ecosystem.
Advanced data science touches every aspect of customer experience. Fraud mitigation, credit underwriting, all the applications of AI.
A huge subcategory for how FinTech relates to customer experience is identity.
"Now we're faced with this whole idea of how you streamline experience, particularly now that more and more commerce is happening on a mobile device," Morris said.
How do you seamlessly authenticate and manage identities on a small screen?
People literally all over the world are trying to answer this question in a way that will promote a positive user experience.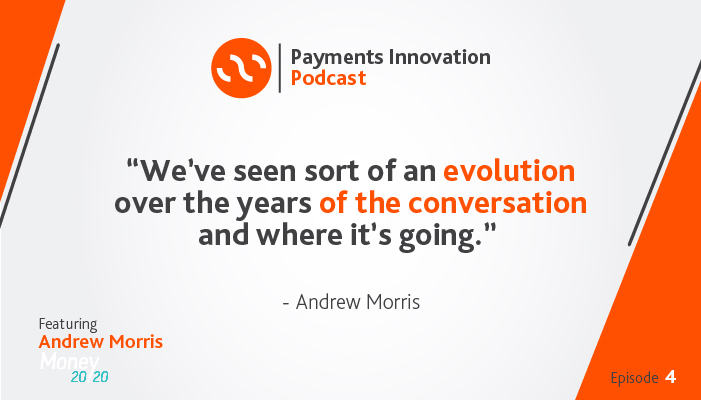 3) Digital Currency
The conference is organized into thematic tracks. Some focused on banking or payments or BotChain, others on vertical areas like regulation.
"We've seen an evolution over the years of the conversation and where it's going," Morris said.
At first it was bitcoin world, built on cryptocurrency, and now it's BotChain.
"We're almost circling back and thinking more digital currency and crypto tokens," Morris said.
Everything is interconnected in FinTech.
"Same thing for mobile payments," he added.
In terms of FinTech, mobile payments are brand new, but already discussion is more about the experiences that surround the payment as much as it is the underlying technology driving payment.
"We all recognize that you're creating great experiences as well as further adoption, and that's the focus," Morris said.
4) Regulation
One important umbrella over pretty much everything in FinTech is regulation.
"The evolution in that whole blockchain crypto-space is going to be talking about the application of these tokens and how they can be used," Morris said.
A lot of Money 20/20 attendees report that they use the conference as a platform to interact with regulators.
Given the current financial environment not only in the US but also the global market, there's a recognition on all sides—larger companies and smaller startups—that it'll take innovation to recover from the recent financial crises.
"We needed to balance consumer protection with that innovation," Morris said.
When regulation is in control of that, understanding regulation is essential.
"Regulation is almost like the operating system for FinTech," he said. "A big theme will be understanding those regulations and finding ways to create networking opportunities between regulators and leaders," he said.
5) Customer Experience
Another vertical topic that you can't discuss any portion of FinTech without is customer experience.
"We've always covered retail and commerce as the context where payments happen, and customer experience is a big part of how retail is changing," Morris said.
Just try to think about FinTech innovation without customer experience at its heart.
Customer experience is an important part of how banking is changing. How all the financial services are changing to accommodate customers.
It might look like a chat bot driven by AI on a webpage or mobile site.
Or it might look like a voice-driven payments experience.
There are easily a dozen things that dictate these context-aware experiences that are being enabled.
"That'll be a really interesting topic that will continue to evolve," Morris said, predicting conversation for this year's conferences.
Because conversation is at the heart of Money 20/20, which has not only maintained its impressive proportion of executive attendees as it's grown but also set a benchmark for networking opportunities.
It's kind of why Money 20/20 has been so successful—it's all about partnerships to promote customer experience.
Here are this year's locations and dates for 2018.
Asia: March 13-15

Europe: June 4-6

USA: October 21-24

China: November 14-16
Morris considers over 2,000 proposals to speak at these conferences—and he wants to hear from more!
"We have a lot of large companies and big tech and large banks," he said, "and those on the cutting edge—startups in the investment community. We're very excited about that."
This year, he predicts more emphasis in Las Vegas on the future of money and who the revolutionaries in FinTech are.
To find out more about the conferences, visit Money2020.com.
And to stay on top of Payments Innovation podcast releases, subscribe to the podcast on iTunes or your favourite media player.